Our 28mm Wild West buildings are straight forward to assemble and all follow a similar principle.
This document provides some general information on assembly.
The buildings are usually supplied with the walls for a single storey printed together as one item.  Each roof is also supplied as a single item.  The roofs will fit on the model without being glued in place so that the inside of the building can be accessed.  Each level of a building is separate.  The levels fit together without the need for glue so that they can be separated during game play.  Where appropriate the floors are part of an upper storey.
General process for assembly.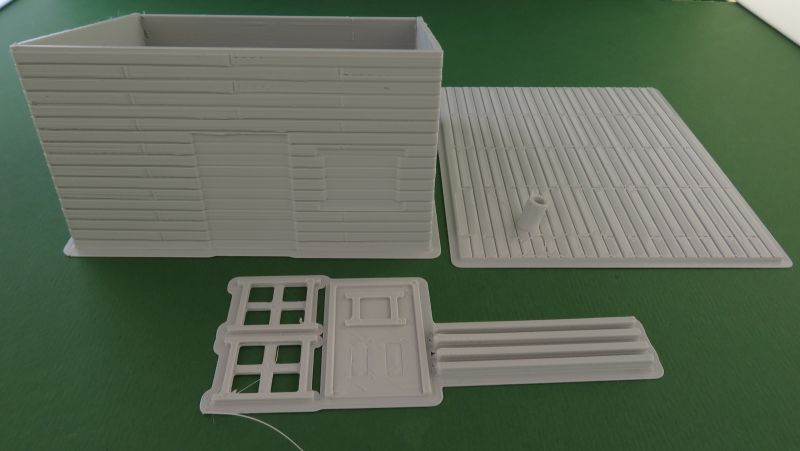 As received
- Remove the printing support material from the building and any printing flash.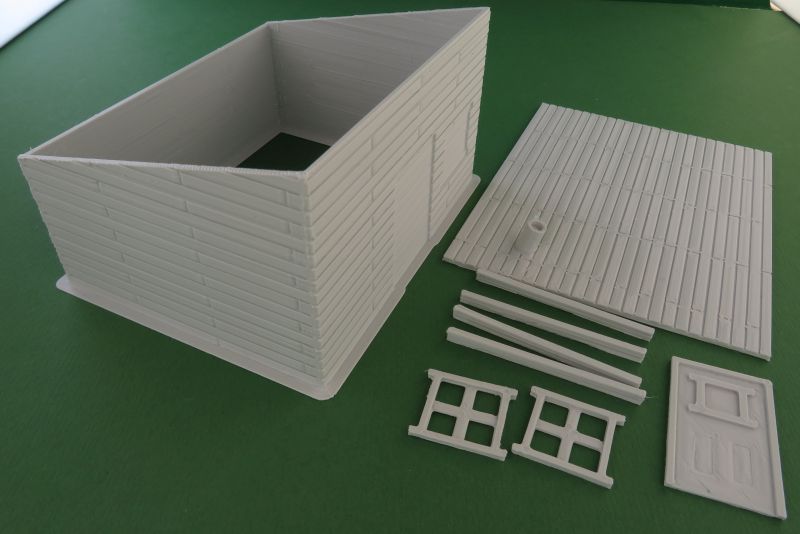 Support material removed
- In most cases it is better to paint the models before assembly.   The flat roofs on the sheds, shacks and small office are held in place by four bars.  These should be glued in place before painting.  The correct position for the bars is shown on the underside of the roof.
Roof bars
- Undercoat the buildings
- Paint the buildings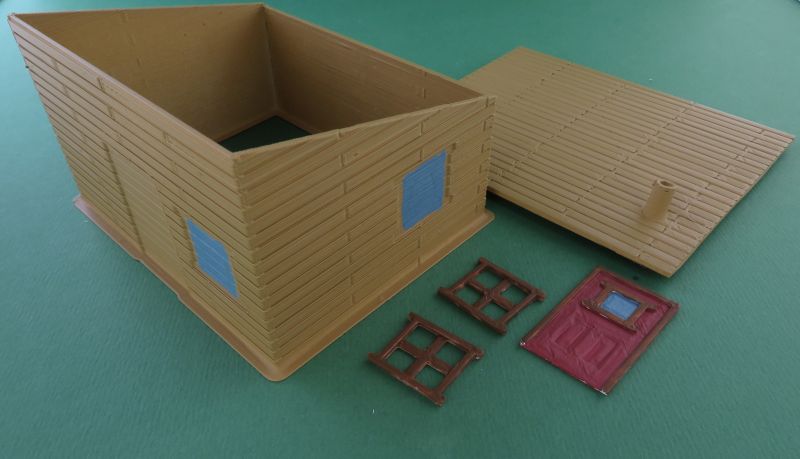 Painted building
- Assemble the buildings and glue onto a base if desired.  Generally this only requires the doors and windows to be glued into the recesses in the walls.  The roof over the board walk on the boarding house should be glued in place.  The two level board walk on the saloon needs to be glued in place, this is much easier if the building is put on a wooden base but is not essential.
- Fit paper signs to the sign holders.  Our signs can be downloaded for free here, and printed out on A4 paper.  The size of the signs is also provided in the download so that you can make your own signs.  The sign holders are recessed to accept paper signs. 
- A brown wash applied to the painted building is highly recommended as it allows the detail on the walls to really show up.
- Dry brushing the buildings is also recommended and should be very effective. 
Completed
Tip:  We use Humbrol Poly Cement for gluing the plastic models together.